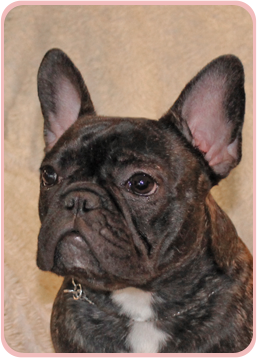 Sire: AKC Pntd "Central Valley's Monsieur Magnifique"
Dam: AKC Pntd "Mill's Ramblin' Rose at Central Valley"
Breeders: Heather Klynstra
Owners: Heather Klynstra
Birthday: 03-12-2014
Achievements:



Lilly completed her Championship 7/18 and 7/19 2015 in Portland with 2 back to back 3 point majors expertly handled by Jean and Josh Hargis of Summerwind Canines.
-------
This beautiful Bred-by girl has been excelling in the show ring as a puppy in 2014. Look for us in 2015.

AKC Pntd Central Valley's Monsieur Magnifique (bmf)

CH. Sugarbull's Badlands Bad Man (fwn)
CH. Hedgebrook Master N Commander
CH. Kae-Rae Filet Mignon
Mjr. Pntd Lorans Premier Priz (red/wh pied)
Multi Imp CH. Super Bulli La Monarcha-Mirabeau
Bell Ami Dju Ker Yussi

AKC Pntd Mill's Ramblin' Rose at Central Valley (brdl)

Mill's Faith in Bully Sam (fwn)
CH. Madaka's Bully Idol
CH. Daystar's Never Ending Faith
Shark Ginny (red/wh)
Multi Imp CH. Gold-Sierra Lui
Shark Nori